It's June in Music City sometimes called Nashville. The event that was once called fan fair is downtown. It is a big celebration of country music. About a hour south of here is Bonnaroo. Bonnaroo is a four day music fest in Manchester. Which did I attend? Neither. I Went to Eminence, KY to see Albannach at the Kentucky Renaissance Festival.

Albannach is a high energy drum and pipe band. They are an amazing band to watch live.
Albannach are not just another Scottish 'Pipes & Drums' band, indeed we bring a new and exciting form of music to your living room. A championship winning piper, an extremely talented main drummer, bass drummers and bodhran musicians bring you a brand new approach to percussion and Celtic music. Our style of music is exciting, energetic and enchanting and we promise to leave you begging for more.
from their site
You can see the intensity with which they play.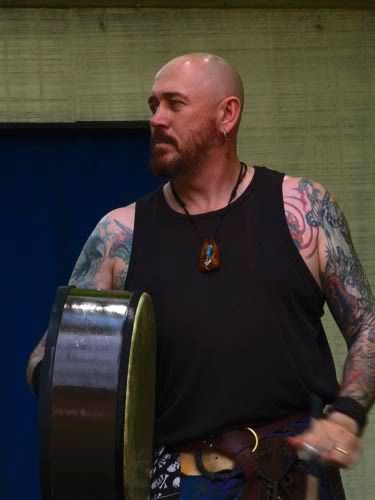 They will be at the Kentucky Highland Renaissance Festival June 13 & 14 and June 20 & 21. See their site for tour dates. See My site for more pics some time next week.